A House of Prayer
A purpose-built shed in a back garden has proved a special place of prayer for a Jesus Fellowship congregation in Kettering.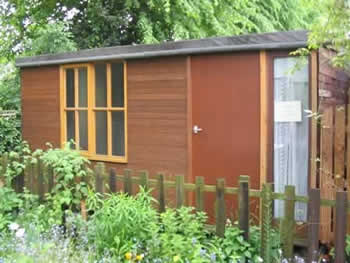 THE VISION for building a prayer shed in Kettering came after some of the J Generation (15-35s) had been to late night prayer meetings at prayer rooms in Northampton. In these meetings we had experienced a power and enthusiasm for God we did not want to lose. We felt God was calling us to get serious about prayer, to really learn to call on God to see situations change and to see new people join us.
As a congregation we had done '24-1 prayer' (praying in 1 hour slots for 24 hours) in the spare lounge in one of our community houses, but we really needed somewhere set aside for prayer. Somewhere anyone could go anytime of the day or night. Somewhere you could go and shout and sing and not worry about the noise. Somewhere you could go and be with God without someone coming in to use the ironing board. Somewhere you could write on the walls and express yourself creatively to God without limits. Neither of our two Kettering community houses had anywhere we could convert into a prayer room, so someone said we would just have to build one, and as we had no materials we would pray for them. We figured that if God wanted us to build this room for prayer then he would supply the materials. In fact when it came to it we found we had more than enough.
We commissioned the shed in the summer of 2000, (about six months after sharing the initial vision), the first thing written on the wall was a prophetic word that the faith and prayers from the shed would be blown by the wind of the Holy Spirit to affect those around. Since then the shed has hosted more '24-1' times and monthly congregation prayer meetings. It is used daily by intercessors to pray for the church and for private prayer times.
The presence of God is obvious as you go in, and people have known real times of meeting with God in there. One wall is covered with names of friends and family we carry a burden for in prayer. Looking at the names I can recognise those God has been touching and drawing to Him.
Another wall has been labeled as the 'sin and confessions' wall. People have used it to express to God their failures, unbelief, pride or backsliding: these are real longings poured out as people seek to get right with God. Many longstanding issues have been resolved as people have been able to go and pray and respond to God in a real way.
In the hustle of life it can be hard to make space to stop and spend time with God. We can be too busy doing for Him and find we don't know how to just be with Him. I am sure God is pleased and honours our hearts when we set aside time and space with no distractions just for Him, to meet with Him, to listen to Him. For many of us it has been a real help to discipline and train ourselves by having a set time in the shed.
PRAYER REQUESTS